February 14, 2012
Congratulations! You are now at Uhuru Peak, Africa's highest point and the world's tallest free standing mountain. This is the information posted on the sign at the summit of Mount Kilimanjaro.
It is more than just a mere sign—these rustic, wooden planks have become an icon for trekkers who set their sights on the 19,340' peak. When the sign finally reveals itself from a distance, it transcends from a landmark to become a symbol of achievement. For many trekkers, reaching the sign (and getting that great snapshot) becomes the sole motivation for the final push of their ascent.
Old Kilimanjaro summit sign
Photo courtesy: Peter Gaylord
Uhuru translates to freedom in Swahili but for those who have trekked to Kili's summit, Uhuru Peak – and its iconic sign – represent victory!
Thomson Trekker, Tracy, describes her first view of Uhuru Peak's summit sign, "Reaching Stella Point and seeing the Uhuru Peak sign in the distance was the highlight – nothing was going to come between me and the Peak. [It] gave me an adrenaline boost and refueled my emotional ability to get to Uhuru."
A new sign was erected at Uhuru Peak a few weeks ago, replacing the brown, rustic, weathered landmark with a shiny, new, green sign. This extreme makeover coincides with Tanzania's semi-centennial – the new sign may have been a 50th birthday present to Uhuru Peak. Here's to the next 50 years and a new vision of freedom and/or victory at high altitude!
New Kilimanjaro summit sign
Photo courtesy: Leslie & Andy Biggs
-
What is it like to climb Mount Kilimanjaro with Thomson?
Watch the video below and celebrate summit success with a Thomson trekking group.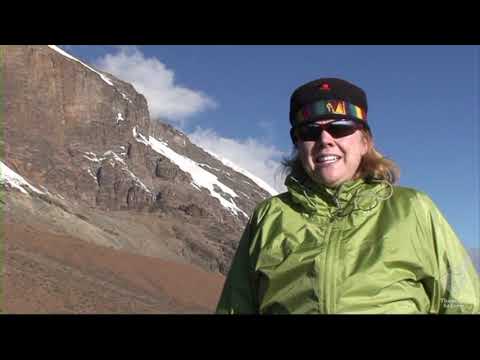 ---
February 2, 2012
Magical! Serene! Stunning! These are some of the words our guests use to describe the experience of soaring over the Serengeti in a hot-air balloon at sunrise. Those who opt to add the balloon flight to their itinerary consider the experience bucket list-worthy.
Variables such as ever-changing wind patterns dictate each balloon flight: Passengers may soar high above the park, viewing grand perspectives of the plains; they may fly very low to the ground for an intimate view of the flora and fauna; the wildlife may remain hidden from view or may be visible in great abundance. All of these elements combine to make each flight a unique experience.
One of the consistent features of the Serengeti hot-air balloon flight is the Champagne toast upon landing. This decadent tradition is said to date back to the late 1700's following one of the first hot-air balloon flights, when a pilot offered a bottle of Champagne – initially meant for him and his passengers – as a gesture of goodwill to the owners of the farm where the balloon touched down. Since then, every hot-air balloon flight concludes with a Champagne toast.
Our guest, Casey Kenaston, shared a video montage with us documenting his entire balloon ride over the Serengeti, beginning with balloon inflation and take-off and concluding with the champagne toast and the "out of Africa" breakfast. He told us the highlight of his experience was following the curves of the hippo-inhabited river from above. Be sure to watch his video here.
-

-
Casey adds, "My safari with Thomson Safaris was a great experience and one that I will remember all of my life. One of the highlights of the trip was a balloon ride over the savanna. We got up early in the morning, while it was still dark, and traveled to the sight where the balloon was being inflated. We ascended shortly before sunrise. There were thirteen of us in the party and we all stood in the large balloon basket during the ride.  We traveled at various altitudes from 100 to 1000 feet to provide an optimum view of the animals and scenery.  It was a beautiful site and we saw a variety of African game. I had the opportunity to get excellent photos and video of the trip. When we landed, we had a nice breakfast awaiting us."
---